PNE Amphitheatre | Vancouver, British Columbia
Celebrating a whopping five decades in the industry, bearded blues rock legends ZZ Top will be performing at PNE Amphitheatre on Sunday 18th August 2019 as part of their 50th anniversary tour! The Rock and Roll Hall of Famers will be delighting fans with a set of non-stop classics from their incredible career:
"It's been five decades, and I think we're starting to get pretty good at all this!" Billy Gibbons enthused in a press release. "We're truly excited to be appearing across the continent this summer and fall, playing our bluesy kind of rock like we started in '69. The beards, Frank's excepted, are perhaps a bit longer, yet nothing else has changed. We're keeping it that way."
"It's such a rarity to find this: the same three guys playing the same three chords and you look up and say, 'Gee, it's 50 years!' That's pretty wild," he said last year. "I think it's cause for celebration. We'll certainly pull out all the stops. Furthermore, it gives us a good excuse to go back and relearn some of the stuff we're supposed to already know."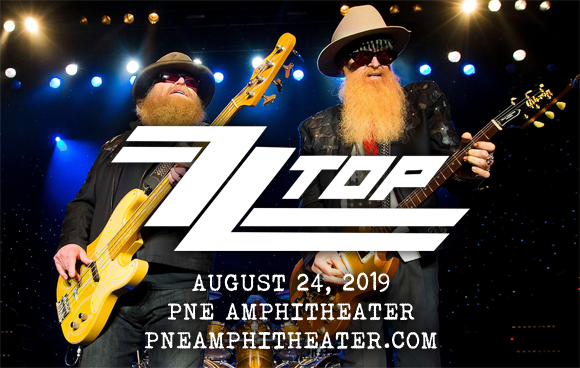 American blues rock trio ZZ Top formed in 1969 and since 1970 has had the line-up of vocalist/guitarist Billy Gibbons (the band's leader, main lyricist and musical arranger), bassist/vocalist Dusty Hill, and drummer Frank Beard. To date, the group has sold over 50 million album worldwide, including sales of over 25 million in the US, making them one of the top-100-selling artists in the United States. The band made its debut in 1971 with ZZ Top's First Album, but it was 1983's diamond-certified eighth studio album, Eliminator, that brought the group worldwide notoriety. Over the course of their career, ZZ Tops have released 11 gold, seven platinum and three multi-platinum albums. They were inducted into the Rock and Roll Hall of Fame in 2004.