PNE Amphitheatre | Vancouver, BC
Denver's premier classic soul, folk-rock, and R&B act, Nathaniel Rateliff, and his band The Night Sweats are back to serve fans their signature soul-induced shows this year. Touring across the country, Nathaniel Rateliff and The Night Sweats are coming to PNE Amphitheatre on Tuesday, 9th of August 2022. The "S.O.B." hitmakers are back to perform their fan favorites and new tracks off of their 2021 album "The Future" live on stage. Don't miss out on Nathaniel Rateliff and The Night Sweats' soulful swagger back on the stage by booking your tickets now!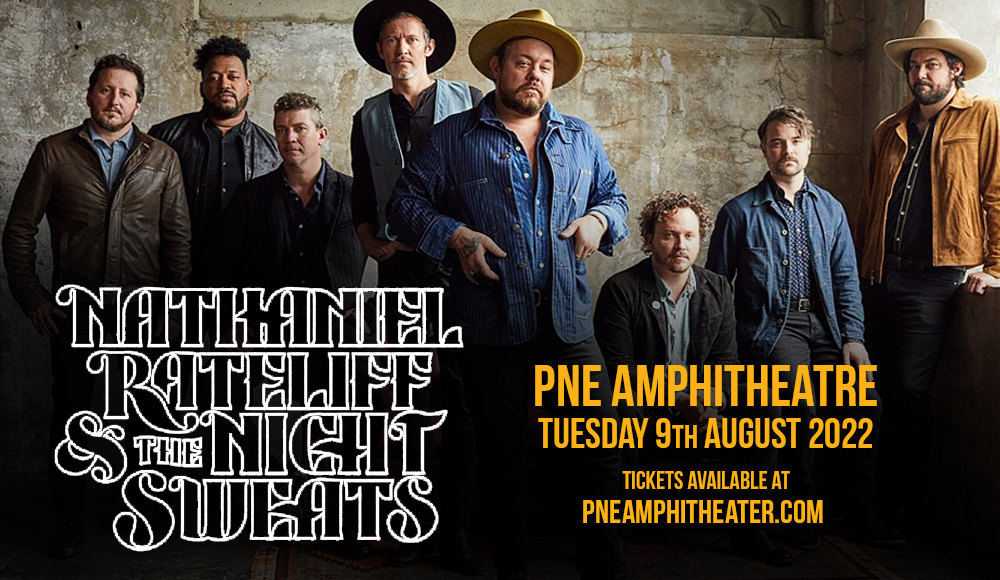 Still fresh from the release of their newest album "The Future" released in November of 2021, Nathaniel Rateliff and The Night Sweats have never lost their charm to listeners' ears. Written during the pandemic, Rateliff expressed the thought of trying to maintain a hopeful vibe despite uncertainties. "I think that kind of ended up being the thread that runs through a lot of the songs on 'The Future,'" Rateliff told Audacy. "The only thing we can do is be hopeful that things will even out, we'll start to like each other more… Or at least learn how to agree, or understand each other a little bit better."
Singles off of "The Future" include "Survivor", "Love Don't", "What If I", "Face Down In The Moment", and "I'm On Your Side".
Rooted in Missouri, Nathaniel Rateliff grew up with significant exposure to music. He played the drums at seven, and taught himself the guitar, then started to write songs along the way.
Having performed alongside other bands and taking on a solo effort, Nathaniel Rateliff found his big break when he united with The Night Sweats. Having met with longtime collaborator Joseph Pope III, he took on a more upbeat and soulful sound. They brought in Joseph Pope III on bass, Mark Shusterman on keyboards, Patrick Meese on drums, Luke Mossman on guitar, Wesley Watkins on trumpets, and Andy Wild on saxophones. Together they became what the world soon knew as Nathaniel Rateliff and The Night Sweats.
With the release of their self-titled debut record, the band found their big break with their RIAA Platinum awarded single "S.O.B.". Los Angeles Times said that the album was "an album Rateliff made as a last-ditch effort before throwing in the towel on his music career, only to see it go viral and turn into a runaway hit."
Nathaniel Rateliff and The Night Sweats' other notable singles and fan-favorites include "I Need Never Get Old", "Say It Louder", "You Worry Me", and "Survivor".
With "The Future" marking a new era for Rateliff and The Night Sweats, Rateliff told Spin, "Yeh, it feels like a success just to be able to tour again… We didn't even know when we'd be able to play shows again or play any kind of live music and then we spent a lot of the summer and fall back in outdoor venues. So that seems like a triumph in its own right."
So, don't miss out on Nathaniel Rateliff and The Night Sweats' big return at their 2022 tour, bringing "The Future" live on stage, meeting their beloved fans once again. Book your tickets now!