PNE Amphitheatre | Vancouver, British Columbia
From L.A. to N.Y., LANY has flown to global fame as one of pop music's freshest acts. Embarking on the 'Summer Forever Tour', LANY is set to bring their best hits and fan favorites to the stage at PNE Amphitheatre on Thursday, 22nd of September 2022. Get ready to party, dance, vibe, or even shed a tear or two to LANY's hits including "ILYSB", "Super Far", "Dancing in the Kitchen", "Malibu Nights", and many more. Following their highly successful 'GG BB XX' tour, LANY is back to take on the summer heat at the Summer Forever Tour. Book your tickets now!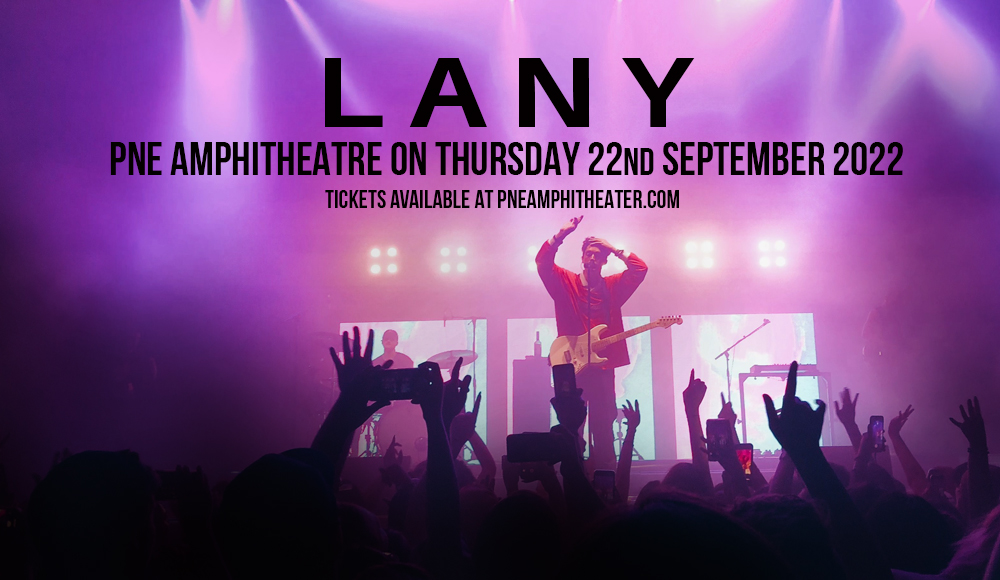 Formed in 2014, LANY took its shot by anonymously uploading two songs namely "Hot Lights" and "Walk Away" to SoundCloud using an account with zero followers. After the release of their first two singles, record labels started sending e-mails, Klein saying they still don't know how they found their songs.
As an acronym for Los Angeles and New York, Paul Klein, in an interview with Teen Vogue explained:
"We knew we wanted a four-letter word because of design and aesthetic purposes, but as you can imagine, all the four-letter words in the entire world are taken. We moved to acronyms and for a while we thought we would be TTYL, but then we decided we didn't want to be 13 for the rest of our lives. I eventually thought of the span across the country from L.A. to New York, and at first I was thinking it would be L-A-N-Y, but people kept getting confused on how to pronounce it when I told them, saying things like 'L-A-and-Y?' So then we're like forget it—let's call ourselves LANY, pronounced Lay-Nee."
The world soon found out the voices behind 'Lay-Nee' when the dropped their singles "Made in Hollywood" and "Bad, Bad, Bad" revealing their identities as LANY. "ILYSB" sparked interest online which marked the start of LANY's domination in the pop scene.
From then on, LANY started reaching new heights, touring with Halsey, Troye Sivan, Twin Shadow, John Mayer, and so on, plus playing on festivals such as Lollapalooza and Bonnaroo. Having released their debut album "LANY" in 2017, the band found themselves growing a global audience. Bandwagon Asia touted them as the band "primed to reshape pop music's zeitgeist".
What sets LANY apart is their sound – music that takes listeners on a dreamy-pop landscape. "I think what we love the most about our band is that we don't sound like anyone else," said Paul Klein. "I think the magic of LANY just happened by the three of us bringing our influences and experiences to the table and together we just formed our sound."
To date, LANY has four studio records namely "LANY", "Malibu Nights", "Mama's Boy", and "gg bb xx", all producing fan-favorite hits such as "ILYSB", "Super Far", "Thick and Thin", "Malibu Nights", "Good Guys", "Dancing in the Kitchen", "Cowboy in LA", and many more.
From a rising bedroom pop act, LANY emerged as pop's next big thing, amassing a large fanbase who fell in love with their signature synths, striking lyrics, bright aesthetics, and music that never failed to keep fans company whether through tracks that would get them dancing, banging their head, or even shedding a tear or two.
With the recently announced departure of band member Les Priest "to focus on life as a writer/producer in Nashville", Paul Klein and Jake Goss are set to keep LANY's core alive through music that bring life to listeners around the globe. Coming back on the Summer Forever Tour, LANY is set to make their biggest hits and fan-favorites resound at PNE Amphitheatre this September 22nd. Book your tickets now!