PNE Amphitheatre | Vancouver, British Columbia
One of Australia's hottest DJs in the EDM scene, Flume, is making his way to Canada, bringing his new record, "Palaces", in six years, to life at PNE Amphitheatre on Monday, September 12th, 2022. The DJ behind EDM hits "Never Be like You" feat. Kai and "Say It" feat. Tove Lo just made his comeback record after six years since the release of his sophomore album "Skin". Catch his new singles including "Say Nothing" feat. May-a and "Hollow" feat Emma Louise, turning up the party live on stage. It's time to get ready to rave by booking those tickets now!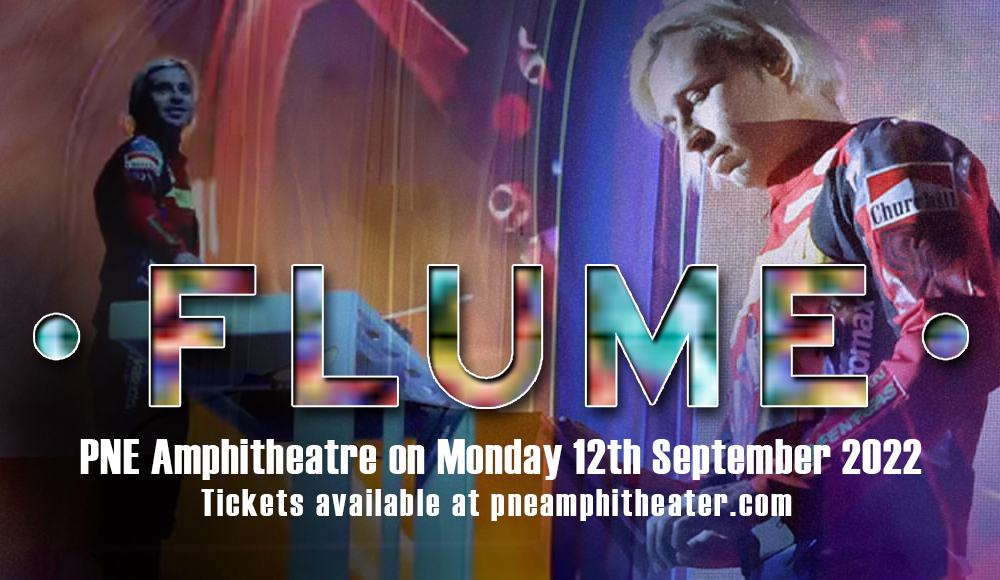 Harley Edward Streten, whom the world came to know as Flume, hails from Sydney, Australia. With a beginner DJ and mixing CD for windows found in a box of Nutrigrain, he began composing music at the age of 11. That moment gave Flume a new perspective of how music was made, kickstarting his interest to take on music production.
In 2011, he signed into a record deal after finishing second in a music competition. His winning tracks include "Sleepless", "Over You" and "Paper Thin", which became part of his debut EP "Sleepless". He released his self-titled debut album in 2012 featuring his songs "On Top" feat. T.Shirt, "Sleepless" feat. Jezzabell Doran, and "Holdin On". The first two tracks earned Gold certifications from ARIA and the latter bagged a Platinum award. The album propelled Flume to gain attention in the EDM scene, with the record gaining favorable reviews and support from critics.
From then on, Flume started his journey of redefining electronic music backed by his signature ear-catching beat drops and hypnotic visuals that EDM fans couldn't get enough of.
His sophomore record "Skin" marked the height of Flume's career, bagging his first chart-topping Australian hit at #1 with its lead single "Never Be like You" featuring Canadian singer Kai. His follow-up single "Say It" featuring Tove Lo hit #5 in Australian charts, bagging a 4x Platinum certification from the ARIA.
He's also produced and co-wrote songs for various artists including George Maple, Vince Staples, DJ Snake, and Lorde.
After the success of his sophomore album, Flume dropped EPs and mixtapes "Skin Companion" EP 1 & EP2, "Quits" with Reo Cragun, and "Hi This Is Flume". All of which received positive reviews, taking Flume's artistry to the limelight in the EDM scene.
After six years since the release of "Skin", Flume finally dropped his third studio record "Palaces" in May of 2022. The new record features his singles "Say Nothing" feat. May-a, "Sirens" feat. Caroline Polachek, "Escape" with Quiet Bison featuring Kučka, "Palaces" feat. Damon Albarn, and "Hollow" featuring Emma Louise.
"Palaces encapsulates all of Streten's successful recipes while twisting and turning through occasional oddity. The Australian artist's bodacious attitude is the centerpiece of his music." The Daily Californian said in a review of his album.
With the return of Flume's sonic masterpieces, catch his new beats come and best hits come to life this fall on his tour in support of Palace at PNE Amphitheatre on September 12th. Book those tickets now!